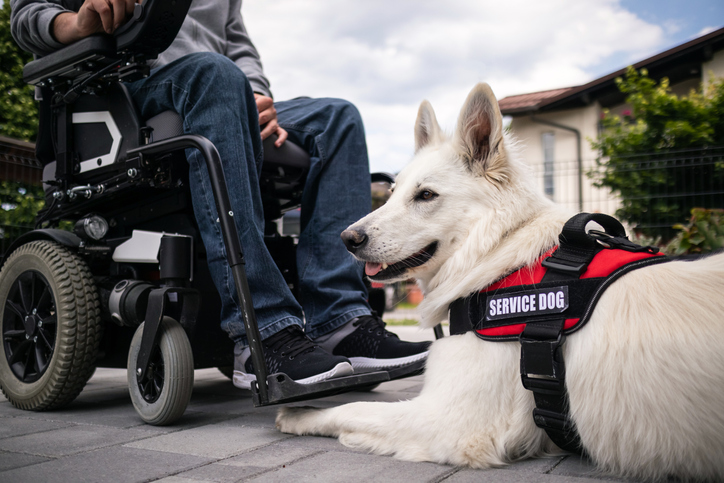 Red Shirt Friday is a non-political movement that encourages people to wear red apparel to show their support for the members of the military past and present. Red Shirt Friday is proud to support these individuals and we support various organizations that make a difference in the lives of past and present service members. One of the organizations that we partner with is Patriot PAWs. This is a great group that is making a direct impact on the lives of veterans. Want to know more about the organizations that we support? Keep reading to learn more about Patriot PAWS and how you can be a part of our mission!
What is Patriot PAWS?
Patriot PAWS was founded by Lori Stevens in 2005. Lori was working as a professional dog trainer when she was asked to assist a group of disabled military veterans to train their dogs. This spurred something in her and drove Lori to found Patriot PAWS. Its mission is to train and provide service dogs at no cost to disabled American veterans and others with mobile disabilities. Patriot PAWS is an amazing organization!
How does Red Shirt Friday support Patriot PAWS?
Red Shirt Friday is proud to support amazing organizations like Patriot PAWS. We do so by donating proceeds from our sales. Currently, we donate at least 80 percent of all proceeds from purchases made on our website directly to organizations like Patriot PAWs. Plus, we funnel donations made on our site to this organization as well!
Support Patriot PAWS with a purchase from Red Shirt Friday!
At Red Shirt Friday, we are honored to partner with Patriot PAWS. When military members suffer physical or mental ailments as a result of their time in the service, it is only right that they get the treatment and support that they need. Patriot PAWS ensures that those service members in need of service dogs can receive them at no cost. Want to learn more about Patriot PAWS or make a purchase to support the organization? See what items we have to offer on our website at Red Shirt Friday.
To learn more about the reliable and quality RSF apparel and products that we offer, visit us on the web at Red Shirt Friday.