Support Our Troops & Veterans
WEAR RED ON FRIDAY
RSF Gives Back
Our goal at Red Shirt Friday is to set aside political agendas and support those who bravely put their lives on the line for our country's freedom.
RSF IS PROUD TO SUPPORT THESE ORGANIZATIONS

In alignment with our corporate vision, Red Shirt Friday apparel is built to inspire, endure, and unify. Made from premium material and assembled in the U.S.A.
Each of our trusted partner charities have been pre-selected based on a mutual commitment to Red Shirt Friday's core values.
This project was our founder's way of making a difference for an often overlooked and underappreciated group. Thank you for supporting our mission.
Subscribe for Updates
Be the first to know all the Red Shirt Friday news and updates by becoming a member of our mailing list. Don't see what you're looking for? Wrong size?
No problem!
With our hassle-free returns policy, and excellent customer service we'll take care of all your purchasing, product and shipping issues.
Contact the Red Shirt Friday team today for assistance. They will be happy to help – no questions asked.
Red Shirt Friday

Testimonials
"These shirts are high quality and something that you can feel good about wearing any day of the week. Especially on Friday!"

"Partnering with RSF has been an excellent way to show our company culture, while honoring and giving back to the troops."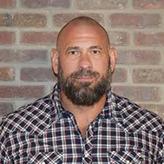 "I love what RSF is doing. Supporting a great cause has never looked so good and my team is proud to wear our RSF polos!"